Chopped

Silica

Threads

Silica mats | Silica fabric | Silica belt | Silica meshes | Silica cords | Chopped silica fiber | Microspheres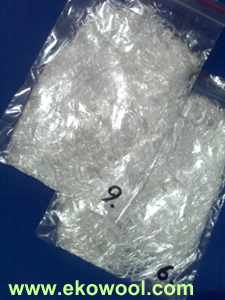 Chopped high silica fiber (strands, threads, yarn) are used as stuff with inorganic, heat-convertible, thermo-softening binding for creating thin heat-resistant sheets, papers and veils with working temperature under 1100îÑ. Also it used for creating heat-resistant high-test composite, sputter heat-resistant coverings. Our chopped silica fiber contains SiO2≥98 and the heat shrinkage rate is ≤1%.
1 kg package of treated virgin fiber s-glass for use in casting and molding without fabric or for reinforcing unsupported resin. Can be mixed with polyester or epoxy. Ideal for making putty when blended with microspheres powder; can be sanded, ground or drilled after setting.
Length: 6±1 mm; 12±1 mm.
Diameter of elementary fiber: 6±1 mcm.
Purity: SiO2 ≥98%;
Na2O ≤0.8%.
Packing
10 or 20 kg in each bag,
Carton Big Bag: 450-800 kg (20 kg bags inside).